MARKETING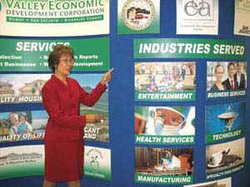 Economic Development is the creation of wealth across the diverse layers of society. It enables people to enjoy improved quality of life as fueled by economic growth.

The Solution Works develops roundtables and executive dialogue groups which create support for local business owners. It also provides valuable insight to community planners on resources that businesses need to continue to thrive.

Business attraction is a concerted effort among local officials and the community to bring the types of businesses to a geographic area. The Solution Works ensures coordination of infrastructure, workforce, efficient government processes and communication necessary for this to happen successfully. Often, this requires the development of a strategic plan which requires the skills of Ms. Wirth who has a vision. Through the study of trends, successful programs can be planned and implemented in a specific region.

The Solution Works helps with effective presentations to key groups or decision makers. We articulate your message to help you become more successful.
---