Technology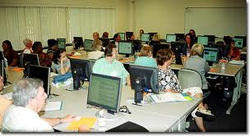 Relevancy is key when dealing with the fast pace of change.

Applying skills in realistic settings ensures retention.

The Solution Works helps individuals from around the world transfer knowledge from one software to another, or from one setting to another.

CUSTOMIZED TRAINING
The Solution Works assists clients in achieving maximum productivity in their technology investment through customized training. This is done by providing computer skills assessments, followed by customized training tailored to the client's desired results. Instructor-led training is still our platform because it allows the user to ask questions as they arise and it provides "real life" scenarios in the use of features.

To satisfy a client's use of the application features in several ways we: 1) create user manuals for off-the-shelf software programs, 2) prepare technical documentation and user guides for proprietary software development, and 3) facilitate discussions to design automated processes to increase efficiency, for example - the use of SharePoint.

SOFTWARE QUALITY ASSURANCE
Performed System Integration Testing and User Acceptance Testing to validate steps needed in operational procedures for different software vendors that develop proprietary software.

Planned, developed tested and implemented a SharePoint application to track the pipeline of students targeted for specific industry clusters: healthcare and advanced technology, for the career activities from middle school through college - until they enter the workforce.

This systemized on-going data collection and analysis to quantify and qualify students track their participation in related career-oriented activities.

Executed System IntegrationTesting, User Acceptance and support wireless technologies.

SOFT SKILLS
Customized training in soft skills are designed to provide specific outcomes. Businesses today realize that the interpersonal skills and basic work ethics are desirable in our workers. Courses include Effective Listening, Networking, Stress Management, How to Have a 48-Hour Day (Time Management), Creating Your Life Purpose, or Effective Communication, High Impact Presentations, just to name a few.
---