ENTREPRENEURIAL DEVELOPMENT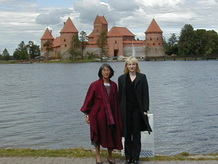 Many entrepreneurs are busy "minding their business" and often are not aware of certifications or procurement processes that can help them grow their business. The Solution Works assists businesses in getting them through these processes. As a project under the U.S. Department of State, Ms. Wirth was selected as one of five women business owners in the U.S. to train and mentor women in Lithuania.

Ms. Wirth has been a certified instructor for three levels of FastTrac training from the Ewing Marion Kauffman Foundation for entrepreneurs. The three programs include: First Step - training for those on welfare to self-employment; New Venture - designed for those in their first two years of business to develop a feasibility plan; and Planning for owners two or more years in business who wish to develop a business plan to grow and develop their business.
FastTrac® has graduated over 25,000 business owners nationwide and studies have shown that the success rate is very high for a 5+ year period, and additional data is continually collected to measure graduates' success.

Ms. Wirth served as Deputy State Director for the Maryland Small Business Development Network (SBDC) and Executive Director for ieTechSource which had oversight for over 800 technology companies in Riverside and San Bernardino Counties in California. Ms. Wirth offered courses for technology companies to obtain funding through SBIR, other grant sources, and venture capitalists.


---